Offering on-site chair or table massage for small businesses, non-profit organizations and private group events.
Our commitment to the community:
• Promote the benefits of massage therapy in order to increase awareness and acceptance of the profession.
• Train massage therapists with a dedication to improving the health and well-being of their communities.
• Enhance the accessibility of massage therapy through a community-based clinical education program.
On-site chair or table massages are great for relaxation and stress reduction!
Students work in groups or as individuals, giving brief (5-15 minute) chair or table massages as part of their community service requirement. Athletic events, offices, festivals, retail locations and nursing homes are some of the venues in which our students regularly offer their services.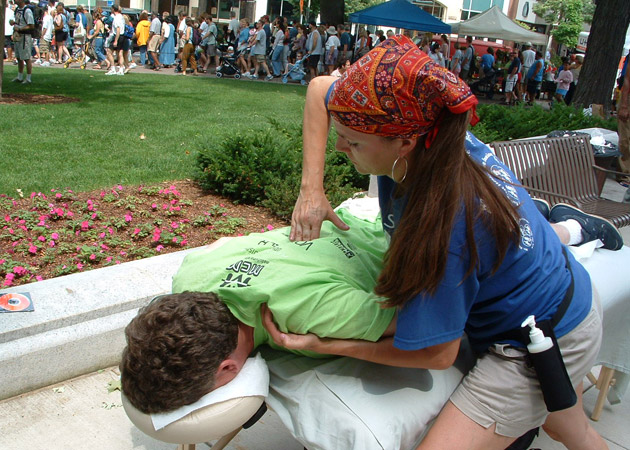 East-West continually works to provide affordable services to meet your individual needs. We charge only the minimal fees needed to cover our staffing, equipment and travel expenses.
Private Events: $40.00 per hour per student. Should you prefer, licensed massage therapists are also available at a rate of $60.00 per hour.
We currently attend certain events at no charge, such as: the Madison Ironman, American Diabetes Walk, Crazy Legs Classic, Madison Marathon and various health fairs.
If you're interested in having East-West students provide massage at your workplace or event, please contact us at least 3 weeks in advance of the requested date.
For Madison area events: (608) 240-1600
For Milwaukee area events: (414) 312-7929.