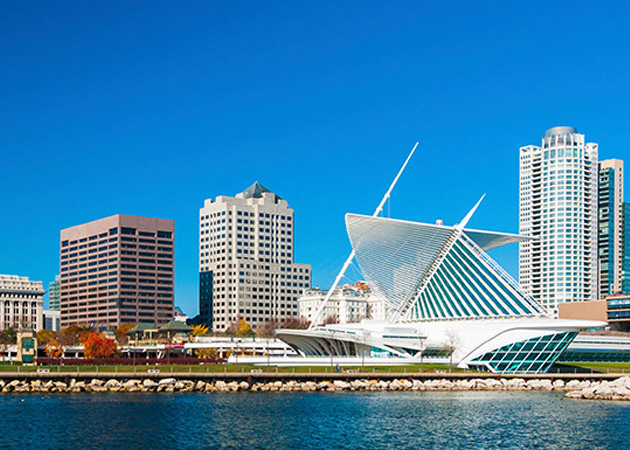 Milwaukee Campus (Non-main Campus)
Upcoming Open House – TBA 6:00 pm – 7:30 pm

2023 Fall Classes – September 23,
4601 N. Oakland Ave, Suite 218
Milwaukee, WI 53211
Our newest campus is located in Shorewood and will see its first incoming class of students in October 2013. Our location offers ample classroom space, a student lounge/kitchen area and no on-site parking. We also proudly feature a student clinic specially designed to create a spa-like, professional setting and fully prepare students to embark into the field of massage therapy upon graduation.
About the Milwaukee Area
Located on the southwest shores of Lake Michigan, the Milwaukee metropolitan region has a demonstrated commitment to health care, comprising 1 of every 4 jobs in the city itself. Within minutes of the Milwaukee campus are the Medical College of Wisconsin, the Children's Hospital of Wisconsin, and Froedert Hospital.
The Milwaukee Riverwalk attracts tourists and residents alike, ranking as Travel & Leisure's #3 of the nation's Top Ten Coolest River Walks of 2010. Milwaukee hosts an array of events dedicated to arts, culture and recreation year-round, such as festivals, concerts, and the Milwaukee Art Museum, in addition to the Summerfest Grounds, Bradley Center, Miller Park and Discovery Center.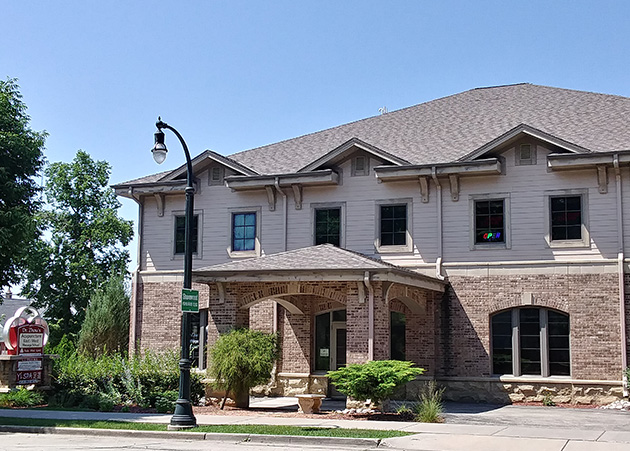 Milwaukee Campus Annual Security Report
EWHAI's Annual Security Report provides information regarding:
3-year Crime Statistics for EWHAI-Milwaukee Campus and the Surrounding Public Property
Policies & Procedures for reporting and responding to crimes that occur on campus, EWHAI campus security & law enforcement policies & procedures, and how the EWHAI community can prevent crimes and be responsible for their own safety and security, as well as others
Policies & procedures for reporting and responding to emergencies that occur on campus, including EWHAI's emergency response & evacuation procedures
 EWHAI's policies regarding the possession, use and sale of alcoholic beverages and illegal drugs, including the enforcement of underage drinking laws, Federal and State laws, and institutional sanctions
Resources for drug abuse education and prevention
 EWHAI's sexual abuse and domestic violence prevention education program and resources
A paper copy of the Annual Security Report is available, upon request: contact the School Administrator: admin@acupressureschool.com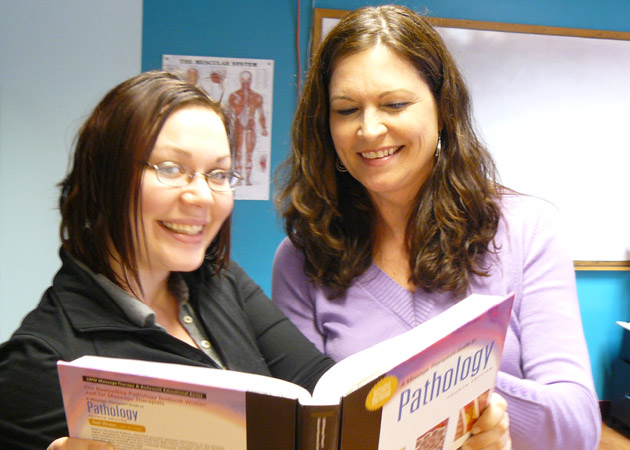 About Our Faculty
East-West faculty and staff members are chosen for their commitment to delivering a superior educational experience to students. Through our extraordinary teachers, students truly learn the integration of mind, body and spirit that our school takes pride in.
Representing a diversity of professional backgrounds, our instructors possess the experience and latest industry knowledge required to train massage therapists looking to differentiate themselves in the field upon graduation.
The faculty and clinic supervisors of East-West are dedicated to all aspects of the program's unique curriculum, from the rigorous Western science courses to those teaching the most time-honored techniques of Asian bodywork.
Please stay tuned for detailed, individual faculty profiles and more information.
About the Program Director
Dr. Xiping Zhou, MDOM, CMT, L.Ac, is anexpert in traditional Chinese medical acupuncturewho brings to the table more than twenty five years' experience in the Chinese healing artsas a practitioner and teacher of acupuncture, Tai Chi and QiGong.
Dr. Zhou artfully combinesacupuncture, herbal medicine and medical manual therapy to help his clients achieve maximum physical and medical wellness in all areas of their life.
In addition to his office in Shorewood, Dr. Zhou also has busy clinical practices at both our Milwaukee and Madison campuses.
Dr. Zhou holds a doctoral degree in Oriental Medicine, allowing him to practice both conventional medicine and TCM. Before coming to the United States, he was chief physician and a full-time professor at HeiLongJiang Medical University in China.
Since founding East-West Healing Arts Institute in 2000, Dr. Zhou is proud to welcome the school's 32nd incoming class to the newest Milwaukee campus this fall.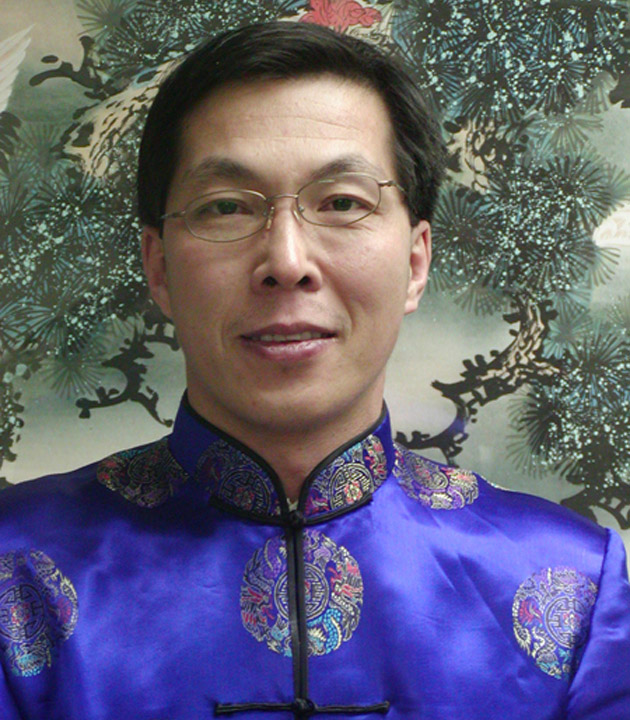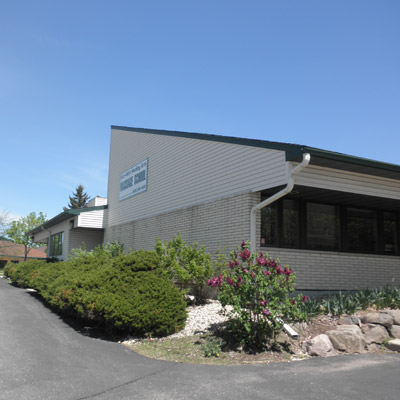 Madison campus
6425 Normandy Lane
Madison, WI 53719
Phone: (608) 240-1600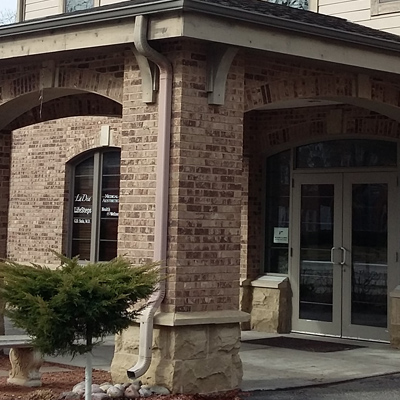 Milwaukee campus
4601 N. Oakland Ave, Suite 218
Milwaukee, WI 53211
Phone: (414) 312-7929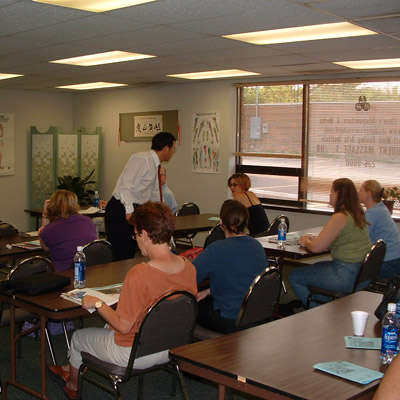 NEXT CLASSES START
Madison 2023 Fall Classes – November 4th, 2023. Enroll Now!
Milwaukee 2024 Spring Classes – March 10th, 2024. Enroll Now!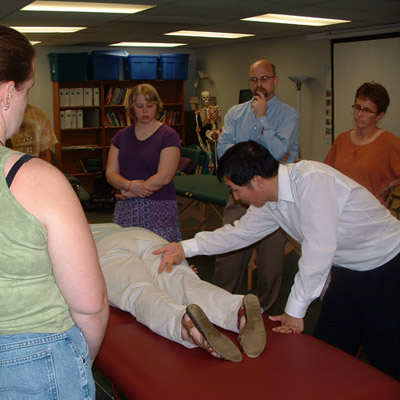 Massage Program
EWHAI's Asian Bodywork & Therapeutic Massage Program offers an 800 hour training in Eastern & Western massage modailities. Our program is available to both full-time and part-time students at our Madison and Milwaukee campuses.